MADE FROM YF-708 FLEXIBLE METALLIC CONDUIT WITH HEAVY DUTY SMOOTH PVC COVERING:

*Durable and long life.
*High tensile strength.
*Inner core made from a spiral wound strip of high strength galvanized steel.
*Unique Deli-LOK Locking and Sealing Mechanism with nylon cord packing for more strength, and increased moisture tightness. A smooth wipe clean PVC covering surface is keyed into the metal corrugations.
*Liquid tight. Complete protection against most liquids and moisture vapor. Resists abrasion, weathering, heat, oil and chemical degradation.

Liquid Tight Conduit
with nylon cord filler

Metal Liquid Tight Conduit is manufactured from a galvanised steel flexible inner core which is pressure coated with an oil resistant, high temperature grade of plasticised PVC. The PVC is keyed into the corrugations of the inner steel flexible core, preventing the PVC from wrinkling when the conduit is bent to its minimum bend radius.

Applications:
Liquidtight flexible metallic conduit provides protection for wiring circuits located in extremely wet or damp areas. It is also suitable for machines, tools and equipments where ruggedness is required.
Delikon Liquid Tight Conduits now in extensive use on presses, welders, pumps, blowers, grinders, conveyors, machines and portable tools, automated lines, and in construction, power plants, industry, commerce and transportation.

Flexible Conduit For Sea Port

Delikon produces a whole range of electrical flexible conduit and fittings providing reliable cable management solutions for all kinds of cargo handling equipments.


Related Products:
>>>Model YF-806
Interlocked liquid tight conduit for more frequent bending and moving applications.
Also for tighter bend area.

Liquid tight flexible metal conduits with metal wire over-braid for more abrasion resistance and EMI screening.
>>> Model YF-705
Wire over-braiding provides more abrasion resistant,
EMI shielding and resistance to hot metal splashes

>>> Model YF-604
with copper bonding wire

Computer room cable protection Liquid tight conduit with copper bonding wire


>>> Model YF-707

Water resistant pvc coated flexible steel conduit for general wiring applications




Stainless steel liquid tight conduit and stainless steel liquid tight fititngs best for corrosive environment such as chemical industry cable harness


Heavy series over braided flexible metal conduit heavy series flexible conduit fittings HEAVY SERIES FLEXIBLE SHEATH for petro chemical equipment electrical wirings


Delikon Heavy Series Over Braided Flexible Conduit and Fittings For industry automation wirings.
EMC Shielding Flexible Conduit

Heavy Series Interlocked Over Braided Liquid tight Conduit with Swivel Fittings for industrial automation wiring

Alunimum & Iron Mill cable prection heavy series over braided flexble conduit system


Flexible Liquid-tight Metal conduit (Liquid Tight Conduit) is ideal when used with liquid tight conduit fittings for electrical wiring applications where a high degree of liquid tightness is required. This product is suitable for a number of general purpose applications and ideal for environments with lots of oils and greases such as machine tool workshops. Delikon delivers IP67 Liquid Tight Conduit and Liquid Tight Conduit Connector for Port Equipment Cable Protection

Type
Trade Size
I.D. (mm)
O.D. (mm)
Min. Bending Radius (mm)
Meters/Coil
MIN.
MAX.
MIN.
MAX.
YF-70602
1/4"
6.2

6.7

11.4

11.9

50
100
YF-70603
3/8"
12.5
13.0
17.8
18.3
60
50
YF-70604
1/2"
16.1
16.6
21.3
21.8
80
50
YF-70606
3/4"
20.7
21.3
25.9
26.4
100
30
YF-70610
1"
26.3
26.8
33.3
33.8
150
30
YF-70612
1-1/4"
35.0
35.5
42.6
43.1
180
20
YF-70614
1-1/2"
40.0
40.5
47.6
48.0
220
20
YF-70620
2"
51.0
51.

5

60.3
60.8
250
15
YF-70624
2-1/2"
63.0
63.7
72.2
73.0
300
10
YF-70630
3"
78.0
78.8
88.2
89.0
450
10
YF-70640
4"
101.8
102.8
113.2
114.0
600
5

| | |
| --- | --- |
| 5" & 6" large size liquid tight conduits are constructed with a fully interlocked strip for added strength and to prevent unraveling. Resistant to most industrial oils, acids and vapors. | |

Type
Trade Size
I.D. (mm)
O.D. (mm)
Min. Bending Radius (mm)
Meters/Coil
MIN.
MAX.
MIN.
MAX.
YF-70650(same as
YF-80650)
5"
126.0
128.0
133.0
135.0
750
5
YF-70660(same as
YF-80660)
6"
149.0
151.0
156.0
158.0
900
5

Large diameter liquid tight conduit and fittings are most suitable for bridges, ship, train station, stadium, power plant and railway power and sinal cables protection.

Delikon produces a whole range of large size liquid tight conduit and fittings to meet your cables protection requirements in mega construction and engineering projects.

Download the catalog page for SEMI YF-706 Liquid Tight Conduit in
PDF File format. Or have a look at other models of liquid tight conduit:

Delikon EMI Shielding Heavy Series Over Braided Flexible Conduit and Heavy Series Connector protect FLNG and LNG facility automation and process control equipment cables.

---


Liquid tight Flexible Steel Conduit for Oil Refinery Wiring
flexible liquidtight conduit
Heavy duty, non-wrinkling smooth durable PVC jacket for exposed applications.
Superior performance and appearance, creating a liquidtight conduit resistant to most oils, acids and vapors present in industrial environments.


Delikon liquid tight conduit is

suitable for use in a variety of environments and applications from general purpose wiring in wet or damp locations, to direct burial and in concrete embedment, to raised computer room floors and site lighting jobs. Delikon liquid tight conduit offers good mechanical and moisture protection to enclosed electrical conductors.

Delikon IP67 Aluminum Liquid Tight Conduit fittings for industry automation Delikon aluminum liquid tight connector connects liquid tight conduit to electrical box, terminal box, and junction box. Delikon Patented Cone Shape Sealing Nut and Rubber Cone Gasket design provides increased liquid tightness, effectively keeping liquid and moisture out in demanding industry environments. The ferrule and body is machined as one sigle unit from high strength aluminium rod, offering excellent pull-off strength. For industry automation cable protection.


Liquid Tight Connector
Connecting flexible conduit to electric box or enclosure
LT Connectors offer excellent pull-off characteristics.

PG, Metric and NPT

threads

liquid tight connector for machine wiring




Stainless Steel Liquid Tight Connector for paper industry

Delikon heavy series flexible sheath flexible conduit and heavy series conduit fittings are ideal for protecting crucial communication and power cables in bank, airport and train station
Delikon produces a whole range of MS Plug Adapters for connecting a military connector (MS Plug) or circular connector to a flexible conduit for industry cable protection. In particular, the Over Braided Flexible Conduit with MS Adapter is most suitable for CNC machines wiring harness, industry control and automation cables protection. Over Braided Flexible Conduit, Fittings.Delikon Heavy Series Over Braided Flexible Conduit with MS Adapter for Servo Motor Cable.

*We are also dedicated to "cut-to-length" order for flexible conduits. Consult Delikon for details
*All sizes and dimensions listed above are subject to manufacturing tolerances. flexible liquidtight conduit
*Standard Packaging: PVC woven sheet wrappings. Other custom packaging methods or of longer length is also possible upon request and our approval. Also Refer To: Braided Flexible Metal Conduit Flexible S.S. Conduit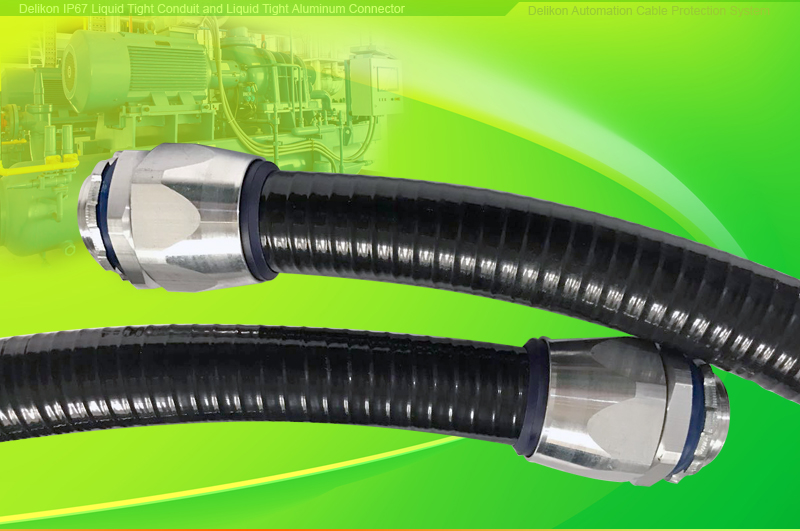 Delikon Liquid Tight Conduit and Liquid Tight Aluminum Connector protect commercial and industrial wiring and cables
The inner metal conduit of Delikon Liquid Tight Conduit is produced from helically wound long lasting galvanized steel strips, and an integral high strength nylon cord pulls the corrugations together closely, forming a smooth interior surface for easy cable pulling, providing excellent impact and crush strength. A heavy duty PVC covering is then extruded directly onto the metal conduit with PVC coating keyed into the corrugations, forming a high degree waterproof non winkling smooth coating.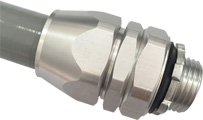 Strong and durable, resistant to heat and corrosion, Delikon liquid tight aluminum connector provides benefits of superior environmental seal, installation time saving, and reduce maintenance downtime. Rubber Cone Gasket with Sealing Nut Interior
Cone Shape design for this line of aluminum liquid tight connector offers increased liquid tightness when the nut is tightened, positively keeping liquid and moisture out in demanding industry environments. Swivel liquid tight aluminum connector Anti vibration feature prevents back out in high vibration applications. Swivel aluminum connectors are best for vibrating machinery, such as motor or blower application.

Delikon Liquid Tight Conduit and Liquid Tight Aluminum Connector are IP67 Rated and designed for commercial and industrial wiring protection, pump, irrigation equipments, motor cable protection, HAVC wiring, protecting Power and Utilities, aerospace, cement and aggregate, food and beverage, irrigation, mining, oil and gas, marine, semiconductor, water wastewater, metal, paper, and automotive industry power and process Instrumentation and Control Automation cable

Delikon interference shielding Heavy Series Over Braided Flexible Conduit and Heavy Series Connector are designed for steel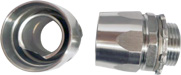 mill, oil and gas industry, Refineries and Petrochemical industry, automotive industry automation cable protection. Delikon interference shielding Heavy Series Over Braided Flexible Conduit and Heavy Series Connector provide excellent protection against signal interference for automation PLC cable, PAC cable, VFD motor cable, variable frequency drive and control cable, Valve Control Cable, sensor and actuator cable, communication cable as well as motion control cable.