MADE FROM HEAVY GAUGE METALLIC TUBE WITH HEAVY DUTY SMOOTH PVC COVERING:



*Durable and long life.
*High tensile strength.
*Inner core made from heavy gauge galvanized steel strip for superior crush strength.
*With integral copper bonding wire for easy grounding of telecommunication equipments, PLC or computers.
*Liquid tight. Complete protection against most liquids and moisture vapor. Resists sunlight, heat, oil and chemical degradation.



Applications:
Liquidtight flexible conduit provides protection for wiring circuits located in extremely wet or damp areas. This computer BLUE is especially suitable for wirings in computer rooms.

Related Products:
>>> Model YF-706
(With nylon sealing cord)



Flexible Liquid Tight Steel Conduit




Liquid tight flexible conduit with wire over-braid for more abrasion resistance and EMI screening.
>>> Model YF-705



Over Braided Liquid Tight Flexible Shielding Conduit
(EMC SCREENING)

>>> Model YF-906
Thermoplastic Rubber Covered Metal Liquid Tight Conduit For Extreme Temperature Environments

>>> Model YF-706-SS



Stainless steel liquid tight conduit and stainless steel liquid tight fititngs best for corrosive environment such as chemical industry cable harness








Heavy Series Over Braided Flexible Conduit for high temperature industry applications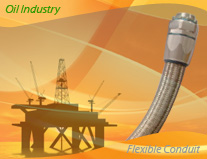 Heavy series over braided flexible metal conduit heavy series flexible conduit fittings for petro chemical equipment electrical wirings



Over Braided Flexible Metal Conduit offers excellent protection to cables against hot metal splash in steel mills

Small bore flexible metal conduit