Large Diameter Electrical Liquid Tight Conduit and Connector

for Construction and Building Industry electrical wiring applicaitons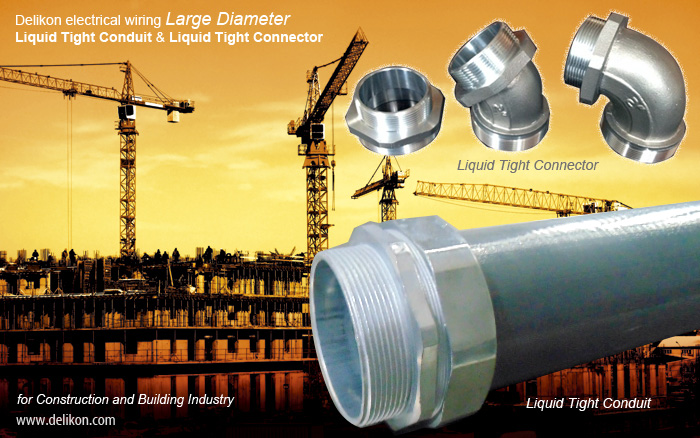 Delikon Large Diameter Electrical Liquid Tight Conduit and Connector is designed for installations in construction and building industry wiring applications.
Liquid-tight Flexible Steel Conduits, Fittings
Liquidtight steel conduit is designed for a variety of installations requiring motion, vibration and bending. It offers good mechanical and moisture protection to enclosed conductors.
Liquid-tight conduit is ideal when used with liquid tight fittings for applications where a high degree of liquid tightness is required. This product is suitable for a number o general purpose applications and ideal for environments with lots of oils and greases such as machine tool workshops.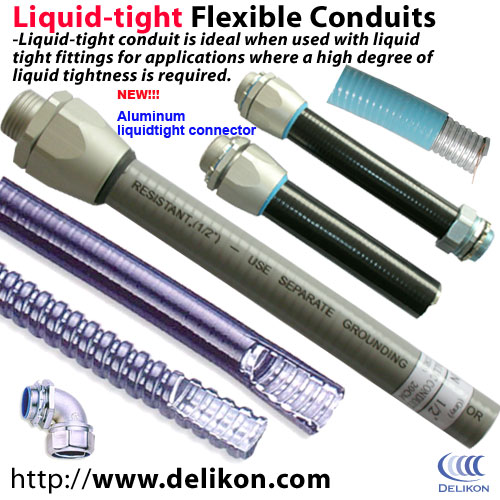 Aluminum Liquid-tight Connectors
This new line of liquid tight connectors are made of high-quality forged aluminum for superior strength and durability. These unique configurations work perfectly with our whole range of flexible conduits and hoses. All forged connectors feature:

* All aluminum construction
* Totally re-useable
* Unique taper design for simple assembly and superior water tightness.
* Fixed or swivel type.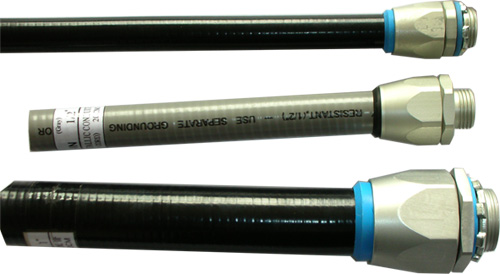 Liquidtight Flexible Steel Conduit,connectors liquidtight conduit liquidtight conduit liquidtight conduit
Liquid Tight Flexible PVC Coated Galvanised steel Conduit liquidtight conduit liquidtight conduit
Flexible, sleek, with increased IP ratings, Liquidtight flexible metallic conduit (LFMC) is suitable for use in a variety of environments and applications from general purpose wiring in wet or damp locations, to direct burial and in concrete embedment, to raised computer room floors and site lighting jobs. liquidtight conduit liquidtight conduit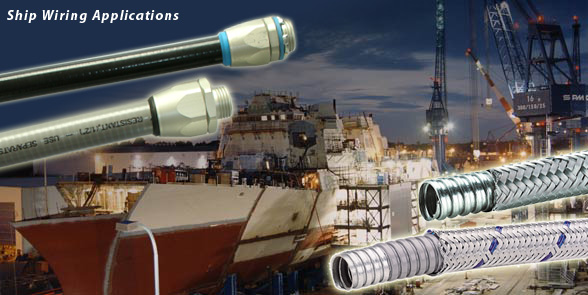 ©

SEMI CONDUITS ● PVC Coated Flexible Metal Conduit ● Liquid Tight Conduit ● Braided Flexible Conduit ● Conduit Fittings
Manufacturer of quality electrical flexible conduit and fittings systems. sales@semiconduits.com Fax: 86-21-64867229
---