Liquid Tight Conduit, Fittings, Flexible Metallic Liquidtight Conduit liquid tight conduit

SEMI High Quality
Liquid Tight Conduit
for both industrial and commercial wiring

Flexible metallic liquid tight conduits are constructed using a convoluted, heavy-duty galvanised steel core. A packing material is added to the convolutions of the core to improve performance. Finally, a smooth jacket is extruded over the steel core to give protection and improve flexing properties. Flexible metallic liquidtight conduits provide an excellent protection for electrical cables against: * aggressive media * pressure loads * moisture and liquid
* chemicals and oil * dust and pollution * extreme temperatures liquid tight conduit liquid tight conduit
liquid tight conduit liquid ti
SEMI big size Metal Liquid Tight Conduit is suitable for industry and commercial liquid tight applications.

SEMI Liquid Tight Conduit has been designed to excel in many applications including but not limited to machine and plant construction, CNC machines, motor and railroad power & signal systems. A whole line of liquid tight connectors are available.
Aluminum Liquid-tight Connectors

This new line of liquid tight connectors are made of high-quality forged aluminum for superior strength and durability. These unique configurations work perfectly with our whole range of flexible conduits and hoses. All forged connectors feature:
* All aluminum construction
* Totally re-useable
* Unique taper design for simple assembly and superior water tightness.
* Fixed or swivel type.

Flexible Metal Liquid Tight Conduit is manufactured from an electro-galvanised steel flexible inner core which is pressure coated with an oil resistant, high temperature grade of plasticised PVC. The PVC is keyed into the corrugations of the inner steel flexible core, which prevents the PVC from wrinkling when the conduit is bent to its minimum bend radius. The PVC coating provides a smooth outer surface onto which liquid tight compression fittings can be secured.

Liquid tight metal conduit offers high mechanical strength combined with complete protection against liquids and dust. It is suitable for regular movements and vibration. Industry cables management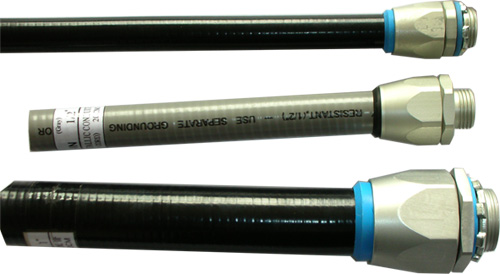 Liquidtight Flexible Steel Conduit,connectors liquidtight conduit liquidtight conduit liquidtight conduit
Liquid Tight Flexible PVC Coated Galvanised steel Conduit liquidtight conduit liquidtight conduit
Flexible, sleek, with increased IP ratings, Liquidtight flexible metallic conduit (LFMC) is suitable for use in a variety of environments and applications from general purpose wiring in wet or damp locations, to direct burial and in concrete embedment, to raised computer room floors and site lighting jobs. liquidtight conduit liquidtight conduit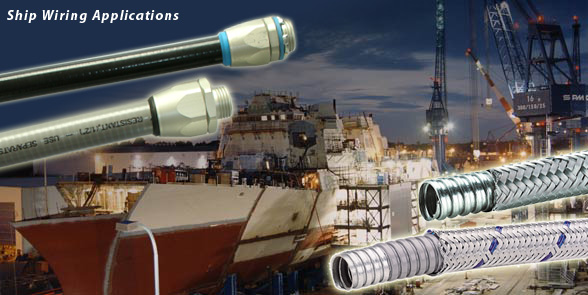 SEMI high quality liquid tight metal conduit and fittings

Liquid tight conduit is used extensively in the machine tool and other industrial environments where flexibility is necessary for installation, maintenance or where
vibration and movement must be absorbed.
Rubber Covered Steel Liquid Tight Conduit For Extreme Temperature
©

SEMI CONDUITS ● PVC Coated Flexible Metal Conduit ● Liquid Tight Conduit ● Braided Flexible Conduit ● Conduit Fittings
Manufacturer of quality electrical flexible conduit and fittings systems. sales@semiconduits.com Fax: 86-21-64867229
---