Heavy Series Over Braided Flexible Metal Conduit Systems for Industry Cable Management

Overbraided flexible metal conduit systems are ideal for use in high temperature industrial applications with sparks, weld slag or hot swarf. Overbraided flexible metal conduit are also suitable for screening electromagnetic radiation.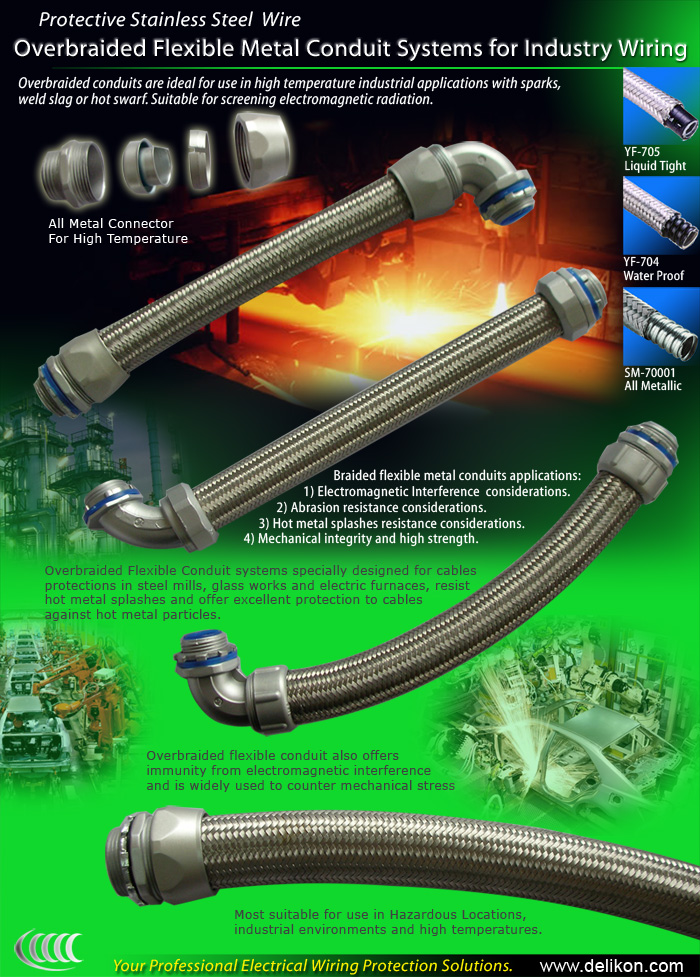 DELIKON Protective Braided Flexible Conduit Systems
Braided Flexible Conduit Systems offer protection against hot chips; High tensile strength; Highly compression resistance; Flexible; For heavy mechanical stress.
Application includes:

Mechanical engineering, Plant engineering and construction, Outdoors application, Everywhere where cables and wires could be damaged by welding sparkles or hot chips.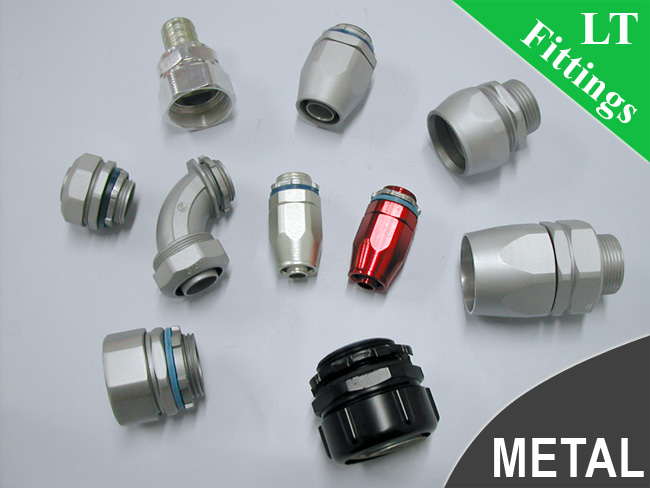 HIGH TEMPERATURE HEAVY SERIES over Braided Flexible Metal Conduit for iron mill cable retrofit
Over braided flexible conduit is particularly used in mechanical critical situations, such as machine-building, steel works but also in transport systems and security. The over braided flexible conduit system is excellent in protecting cables against metal particles and against vandalism or rodents.
Braided flexible conduit systems for corrosive and chemical environments
Braided flexible metallic conduit system from Delikon is most suitable for the protection of vulnerable cables in demanding installations. Designed for corrosive, chemical and heavy industrial environments, the flexible conduit system is overbraided with stainless steel for added protection, without restricting their flexibility. Braided flexible steel conduit offers high flexibility and high fatigue life, is inherently low fire hazard and provides standard EMI screening for the cables carried within the systems when used with Delikon fittings. The systems are also suitable for operation in high temperature.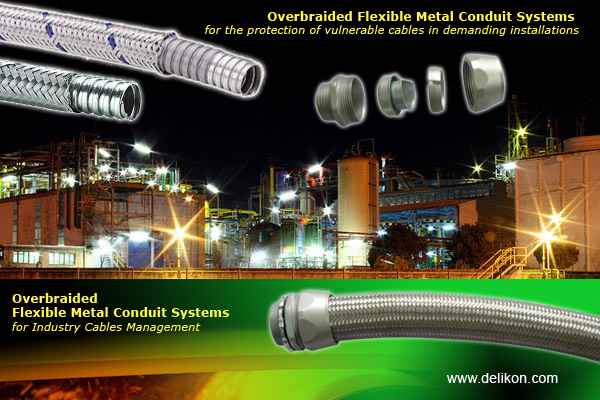 Overbraided Flexible Conduit Systems, protecting vulnerable industrial cables

overbraided flexible conduit systems from Delikon offer a choice of a whole range of sizes and
constructions to provide the best solution for the most demanding applications.

Delikon overbraided flexible conduit systems protect vulnerable cabling on metal machining, welding
or heavy plant where abrasion, spillage and increased temperature are all serious operational
considerations. They also satisfy arduous demands on railway rolling stock and on essential
trackside applications, such as signaling and communications.
Over braided flexible metal conduit systems are ideal for use in high temperature industrial applications with sparks, weld slag or hot swarf. Braided flexible conduits are most suitable for metals industry cables.
Over Braided flexible conduit for electrical cable in steel rolling mill machinery