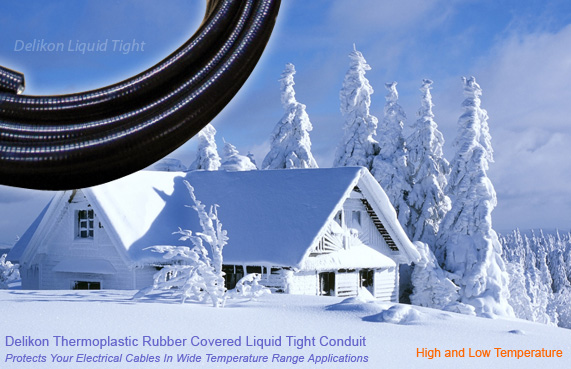 MADE FROM YF-703-IN FLEXIBLE METALLIC CONDUIT WITH HEAVY DUTY Thermoplastic Rubber COVERING:



*Durable and long life.
*High tensile strength.
*Inner core made from a spiral wound strip of corrosion resistant galvanized steel.
*Unique Delikon Interlocking Mechanism for increased strength, and good moisture tightness. A durable wipe clean Rubber covering surface is keyed into the metal corrugations.
*Liquid tight. Complete protection against most liquids and moisture vapor. Resistance to Wide Temperature Range exposure (Hi-Lo Temperature)




Liquid Tight Conduit
with aluminum connector

Thermoplastic Rubber Covered Liquidtight flexible metal conduit is manufactured from an electro-galvanised steel flexible inner core which is pressure coated with an oil resistant, high temperature grade of Thermoplastic Rubber. The Rubber is keyed into the corrugations of the inner steel flexible core, preventing the rubber covering from wrinkling when the conduit is bent to its minimum bend radius.
Delikon
4 inches aluminum liquid tight connector
Grey color liquid tight conduit for machine tools wirings:





Applications:
Thermoplastic Rubber covered liquid tight conduit is used in situations where concerns of resistance to extreme temperature exposure exist. These include heavy outdoor equipment, railway signal systems and sub-zero areas.


Delikon Liquid Tight Conduits now in extensive use on presses, welders, pumps, blowers, grinders, conveyors, machines and portable tools, automated lines, and in construction, power plants, industry, commerce and transportation.
Related Products:



DELIKON has introduced a range of over braided flexible nylon corrugated conduit & metal fittings with EMC screening capacity.



Heavy series conduit fittings for over braided flexible conduit.
Delikon HEAVY SERIES over Braided Flexible Metal Conduit and Heavy Series Fittings for iron mill cable retrofit



Delikon InterLocked Stainless Steel Liquid Tight Conduit,stainless steel liquidtight connector for MINING AND QUARRYING INDUSTRY wiring





High temperature heavy series Over Braided Flexible metal Conduit for CNC and EDM machine wiring
Type YF-906 Thermoplastic Rubber Covered Metal Liquid Tight Conduit is well suited for exposure to Wide Temperature Range climatic conditions. It is also widely used on industrial process equipment such as Hydraulic machines, Lumber Kilns, Foundries, Refrigeration, etc. It is a conduit designed to withstand a wide temperature range. Used in situations where concerns of resistance to temperature exposure exist. These include heavy outdoor equipment, railway signal systems and sub-zero areas.
Thermoplastic Rubber Covered Galvanised Steel Liquid Tight Conduit
Type
Trade Size
I.D. (mm)
O.D. (mm)
Min. Bending Radius (mm)
Meters/Coil
MIN.
MAX.
MIN.
MAX.
YF-90602
1/4"
6.2

6.7

11.4

11.9

50
100
YF-90603
3/8"
12.5
13.0
17.8
18.3
60
50
YF-90604
1/2"
16.1
16.6
21.3
21.8
80
50
YF-90606
3/4"
20.7
21.3
25.9
26.4
100
30
YF-90610
1"
26.3
26.8
33.3
33.8
150
30
YF-90612
1-1/4"
35.0
35.5
42.6
43.1
180
20
YF-90614
1-1/2"
40.0
40.5
47.6
48.0
220
20
YF-90620
2"
51.0
51.

5

60.3
60.8
250
15
YF-90624
2-1/2"
63.0
63.7
72.2
73.0
300
10
YF-90630
3"
78.0
78.8
88.2
89.0
450
10
YF-90640
4"
101.8
102.8
113.2
114.0
600
5

Delikon Stainless Steel Liquidtight Connectors offer corrosion resistance and the strength of stainless steel for the highest levels of endurance.
Delikon Stainless Steel Liquid Tight Conduit and Stainless Steel Liquid Tight Connector are widely chosen by water treatment plant, sewage treatment plant, petrochemical plant, Oil & Gas industry, mining industry, food & beverage and pharmaceutical industry, paper industry, offshore industry . . . or applications where better corrosion resistance is required.