Delikon EMI Shielding Heavy Series Over Braided Flexible Conduit with Military Circular Connector Backshells, Adapters and Transitions Fittings
Delikon Cable Protection Flexible Conduit with Conduit Adapter Backshell
Each year, as military technology progresses, new uses for military connectors are born. They are often used in aerospace, industrial, marine, and even automotive commercial applications. Some of the standard environments to which military connectors are subject include wide temperatures ranges, severe vibration, severe shock, corrosion, fuels, hydraulic fluids, sand, dust, ice, bending moments, moisture, water emersion, high altitude, humidity, vacuum, space, dissimilar metal electrolysis, lightning, electro magnetic interference EMI, radio frequency interference RFI, electro magnetic pulse EMP, and many more.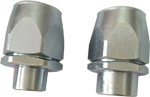 The need to provide adequate protection to the cables connecting to Military Connector becomes paramount. Del

ikon backshell design is concerned with the rear end or wire end of the connector.
Delikon Conduit Adapter backshells are designed to attach onto the rear end or wire end of the military connector, connecting Delikon Flexible Conduit to the Military connector shell rear end geometry. With this design, the cables are fully protected by Delikon EMI Shielding Heavy Series Over Braided Flexible Conduit systems. Delikon MAS Series Conduit Adapter Backshells are offered in complete range of SHELL SIZES. Delikon Backshells are available in aluminum, stainless steel, brass, and steel, and come in various finishes. Different designs (i.e. straight, 45, and 90 degrees) are available and customization is always an option.
Delikon Heavy Series Over Braided Flexible Conduit system has been designed to provide a series of fully screened,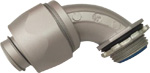 mechanical protection cable assembly systems for commercial, mass transportation, test equipment and aerospace, defense applications. The heavy series over braided flexible conduit systems can be supplied as component parts or as an assembled conduit to predetermined length and form, We offer a flexible service to enable a conduit system to be designed and built to the requirements of our customers.