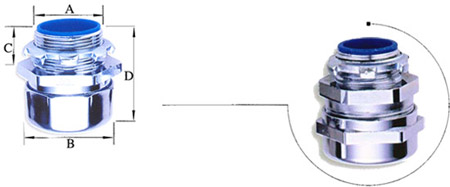 PG Threads Metal Liquid Tight Conduit Fittings (0 degree)
Model No.

For Conduit

Straight LT Connector Dimension (mm)

PG
Thread

I.D.

A

B

C

D

YZB-0309

3/8"

10.0

15.2

30.0

9.0

36.5

PG9

YZB-0311

3/8"

10.7
18.6
30.0
6.5
36.5
PG11

YZB-0313

3/8"

10.7
20.4
30.0
6.5
36.5
PG13.5

YZB-0316

3/8"

10.7
22.5
30.0
6.5
36.5
PG16

YZB-0411

1/2"

14.5
18.6
35.5
9.0
38.0
PG11

YZB-0413

1/2"

14.5
20.4
35.5
9.0
38.0
PG13.5

YZB-0416

1/2"

14.5
22.5
35.5
9.0
38.0
PG16

YZB-0421

1/2"

14.5
28.3
35.5
9.0
38.0
PG21

YZB-0621

3/4"

19.3
28.3
43.0
9.0
38.0
PG21

YZB-1029

1"

24.4
37.0
48.0
11.0
50.0
PG29

YZB-1236

1-1/4"

33.4
47.0
58.0
11.0
52.0
PG36

YZB-1442

1-1/2

"

38.0
54.0

64.2

15.0

60.0

PG42

YZB-2048

2

"

48.8

59.0

86.6

20.0

80.5

PG48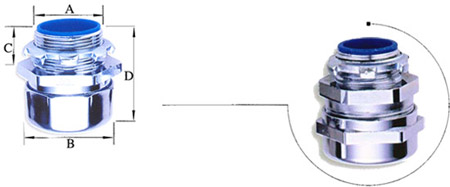 Metric Threads Metal Liquid Tight Conduit Fittings (0 degree)
Model No.

For Conduit

Straight LT Connector Dimension (mm)

METRIC
Thread

I.D.

A

B

C

D

YZB-03M16

3/8"

10.7
16
30
12
39.5

M16

YZB-03M20

3/8"

10.7
20
30
13
40.5

M20

YZB-04M20

1/2"

14.5
20
35.5
13
42.0

M20

YZB-04M25

1/2"

14.5
25
35.5
13
42.0

M25

YZB-06M25

3/4"

19.3
25
40
13
42.0

M25

YZB-06M32

3/4"

19.3
32
40
15
44.0

M32

YZB-10M32

1"

24.4
32
46.5
15
54.0

M32

YZB-10M40

1"

24.4
40
46.5
15
54.0

M40

YZB-12M40

1-1/4

"

33.4
40
58.0
15
56.0
M40

YZB-14M50

1-1/2

"

38.0
50

64.2

19
64.0
M50

YZB-20M63

2

"

48.8

63

86.6

25
85.0
M63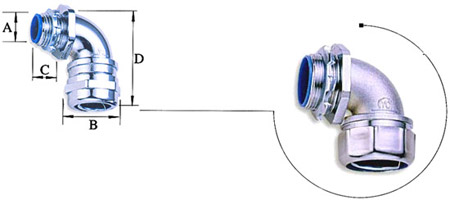 PG Threads Metal Liquid Tight Conduit Fittings (90 degrees)
Model No.

For Conduit

90 Degrees LT Connector Dimension (mm)

PG
Thread

I.D.

A

B

C

D

YZL-03

09
3/8

"

10.7

15.2

30.0

8.5

54.0

PG9

YZL-031

1
3/8

"

10.7

18.6

30.0

8.5

54.0

PG11

YZL-0313

3/8"

10.7

20.4

30.0

8.5

54.0

PG13.5

YZL-0413

1/2"

14.5
20.4
35.5
8.5

57.0

PG13.5

YZL-0416

1/2"

14.5
22.5
35.5
12.5

57.0

PG16

YZL-0421

1/2"

14.5
28.3
35.5
12.5

57.0

PG21

YZL-0621

3/4"

19.3
28.3
43.0
14.0

67.0

PG21

YZL-1029

1"

24.4
37.0
48.0
17.5

73.0

PG29

YZL-1236

1-1/4"

33.4
47.0
58.0
18.0

93.5

PG36

YZL-1442

1-1/2

"

38.0
54.0

64.2

21.5

103.0

PG42

YZL-2048

2

"

48.8

59.0

86.6

24.0

126.0

PG48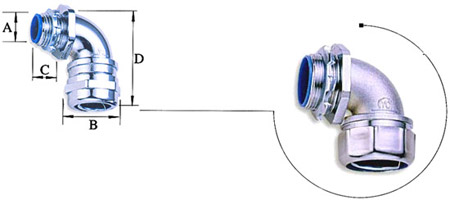 Metric Threads Metal Liquid Tight Conduit Fittings (90 degrees)
Model No.

For Conduit

90 Degrees LT Connector Dimension (mm)

METRIC
Thread

I.D.

A

B

C

D

YZL-03M

16

3/8"

10.7

16

30

13

54.0

M16

YZL-03M20

3/8"

10.7

20

30

13

54.0

M20

YZL-04M20

1/2"

14.7

20

35.5

13

57.0

M20

YZL-06M25

3/4"

19.3

25

40

13

67.0

M25

YZL-10M32

1"

24.4

32

46.5

15

73.0

M32

YZL-10M40

1"

24.4
40
46.5
15

73.0

M40

YZL-12M40

1-1/4

"

33.4
40
58.0
15

93.5

M40

YZL-14M50

1-1/2

"

38.0
50

64.2

19

103.0

M50

YZL-20M63

2

"

48.8

63

86.6

25

126.0

M63
Metallic connectors offering liquid-tight connections:
*Connecting the flexible conduits to electrical boxes, enclosures and machineries housings.

EMT Fittings





NPT LT Fittings






Connectors and fittings for braided flexible conduit

Liquidtight Connector with Internal Threads >>>

Combination Connectors

Braided Flexible Conduit Systems for industry

Developed for use on machining and OEM applications, Delikon protective over braided flexible conduit systems have continuously evolved to included specialized systems for chemical, engineering, offshore, rail, underground, tunnel and security applications. They are available in a wide selection of nominal conduit diameters and constructions.
PG & Metric Liquid Tight Conduit Fittings.


Heavy series flexible cable sheath water proof over braided flexible steel conduit offers optimum cable protection in industry applications for protection against HOT metal sparks, slag, etc..Automation Wiring
BRAIDED FLEXIBLE LIQUID TIGHT CONDUIT for cable management and protection of critical wiring in Mining, Oil and Gas, Ship Building, Beverage and Machine Tools Industry